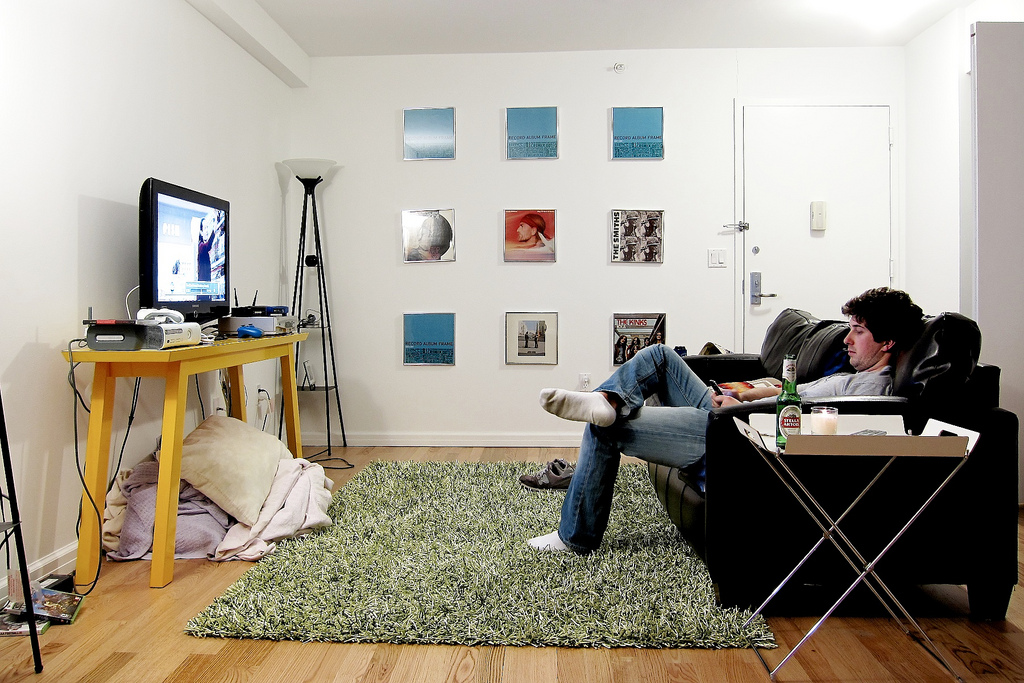 The humble bachelor pad is changing. Gone is the old image of the Austin Powers-esque velvet wallpaper and mirrored ceilings; today, the bachelor pad is all about understated class rather than the sleazy exuberance of the past.
If your pad needs dragging into the 21st century, it doesn't need to cost you a small fortune. With some money-saving hints and just some modest DIY ability, there are plenty of ways in which you can transform your bachelor pad on a budget:
Wall coloring
The color scheme of your walls is one of the most often overlooked budget options for bringing a bachelor pad up to date. Paint is cheap, can be applied easily by following just a few simple guidelines, and can be changed easily at a later date.
For a color scheme to impress any visitor, go with mainly neutral colors for most of your interior walls. Adding a feature wall will help the room come to life but be warned – not all spaces are suited to them. If you do opt for a feature wall, go with a masculine "fashion neutral" color, such as navy – it will look both classy and discreet at the same time. Make sure your room has plenty of natural light before choosing a dark color for your feature wall. Avoid the red, black, and white color scheme – it's an outdated cliché for bachelor pads and reeks of seedy club VIP areas.
Peel-and-stick wallpaper is also a cheap and easy option for creating a feature wall – perfect if your bachelor pad is a rental property.
Seating
If your tired old furniture is making your pad look dated, you don't necessarily need to go out and buy brand new replacements.
Reupholstering is a great budget option to give an old couch a new lease of life. If the couch cushions are still in good shape and the frame is strong, you can simply replace the outer fabric with a fresh, up-to-date material
Having the couch professionally reupholstered is far cheaper than buying new furniture, but cheaper still is reupholstering it yourself. It may sound like a tough job but DIY reupholstering is actually easier than you may think.
The arrangement of your furniture can also have a huge effect on the look and feel of your pad. Try moving your couch and chairs around to see if you can make better use of the space you have. It can make your pad look completely new, costs nothing, and takes no time at all.
Lighting
As with furniture location and wall coloring, lighting is an inexpensive way to transform your space. Adding a few budget lamps in the right places can transform the look and feel of a room, making it appear more spacious or cozy. Importantly, adding your own lighting can help you avoid using unflattering overhead lighting you may have inherited, without you needing to rewire anything.
Uplighters are a great way of creating a classy ambiance for your pad, creating a warm, flattering effect. They can be picked up cheaply at places like IKEA and positioned behind furniture to make even cheap fixtures look classy. And never underestimate the effectiveness of a few well-placed candles.
Lighting your pad effectively also extends way beyond the obvious addition of adding lamps. You can also control light coming into your rooms through the addition of window shutters.
Plantation style shutters are a particularly great option for controlling natural light levels, without leaving your rooms on full view to the outside world. And with DIY window shutters, you can get the desired effect without blowing your budget.
De-clutter
A cluttered living area and bedroom look very teenage and unflattering. It also undoes all your hard work in creating well-lit, well-colored spaces.
Decide what you really need in your place and what can go. This will help you strike the ideal balance between your pad feeling homely and your place feeling cluttered. For example, having your CDs and DVDs on show is a definite "no" (it's not 1998), while displaying books and records looks far more refined – but if space is limited, store both out of sight.
On the subject of storage, make sure you have plenty available. A storage chest is a great way to keep loose items such as throws, jackets, and shoes out of sight, and there are great budget options to be had at salvage stores and on online auction sites like eBay.